To help ArtReach publicize their Festival of Trees, my strategy was to create compelling Facebook covers and posts that would demonstrate the beauty of the event and that would be shared. 
The volunteers from ArtReach had succeeded in transforming a closed store into an amazing space filled with beautiful Christmas trees, a unique Santa experience, and gift store with one-of-a-kind handmade gifts but the attendance was disappointing. This was despite the fact that the staff and volunteers had been very successful in getting posters up and receiving TV, radio and newspaper coverage.
After questioning several people who had seen the poster for the Festival of Trees, we determined that people were aware of the event but not sufficiently clear on what the event offered to take the action of buying a ticket. Using Facebook cover graphics, we reframed the event as "What happens when artists decorate the humble Christmas Tree."

The second part of the strategy was to make the abstract concept of Festival of Trees more concrete by showing a variety of photos of specific decorations, such as a Marilyn Monroe ornament on a 50's tree or a Cupcake ornament with their respective artists. These were posted on Facebook with the artist for each tagged, building the concept in the audience's mind of trees lovingly decorated by local artists as well as extending the reach through shares.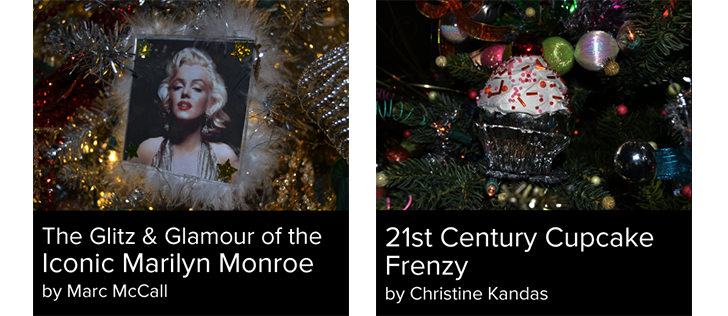 As attendance rose, the staff became re energized and decided to extend the exhibit for an additional week. Using Facebook cover photos, we ran a countdown to the final days creating a "you don't want to miss it" image.

•  
Researched reactions to current efforts
•  
Worked with ArtReach staff to align my efforts with their goals
•  
Photographed trees and ornaments
•  
Enhanced nighttime effect in Photoshop.
•  
Created several Facebook cover and post graphics
•  
Acted as Page Manager to schedule and create posts
•  
​​​​​​​Contributed suggestions for a social media plan for 2016.