Problem  
McLellan Homecare needed a new website to convey its unique position in the marketplace, providing pediatric Speech Therapy in the home, with an emphasis on learning through play and parent involvement.
Solution
Create an inviting web page that would encourage parents to call to make an initial appointment and after becoming a client, to use the books, videos and games to participate in activities at home that make the therapy successful.

User Research
Highlights…
 •    
The only insurance McLellan Homecare accepts is Medicaid; otherwise it is private pay. An interesting outcome is the gap in education, income between Medicaid and private pay, and that there is no middle ground.n interesting outcome is the gap in income between Medicaid and private pay, and that there is no middle ground.
 •    
More than 20% of the parents are Spanish-speaking and of those, most are using smartphones only (no desktop) and they use SMS services like WhatsApp instead of email.
 •    
Although they don't use the website to connect with McLellan Homecare, case workers from various government agencies and pediatric physicians influence the parents' decision. Often the parents will accept the recommendation without any further research.
 •    
Parents are more likely to act on a therapist's recommendation for resources specific for their child rather than those they find from a search online.
Personas
Persona creation guided us to significant changes in our assumptions, especially Maria, a Spanish-speaking parent whose child was identified as needing therapy by an agency that tests public school children:
 •    
Oddly enough, we hadn't thought of making a Spanish-language version until we created the persona Maria even though over 20% of the parents are Spanish-speaking. It's an example of the power of Personas.
 •    
Learning that Maria uses Whatsapp led us to mock up not only the content on McLellanHomecare.com, but also connecting through SMS services.  
 •    
Rather than perfecting the search capability for resources, we need to make it easier for the therapist to make a recommendation that is easy for the parent to act on.
User Flows  
In creating the User Flows, we learned that if we re-assigned weekly tasks to an assistant who used a desktop, we could remove many of sticky problems from the mobile version.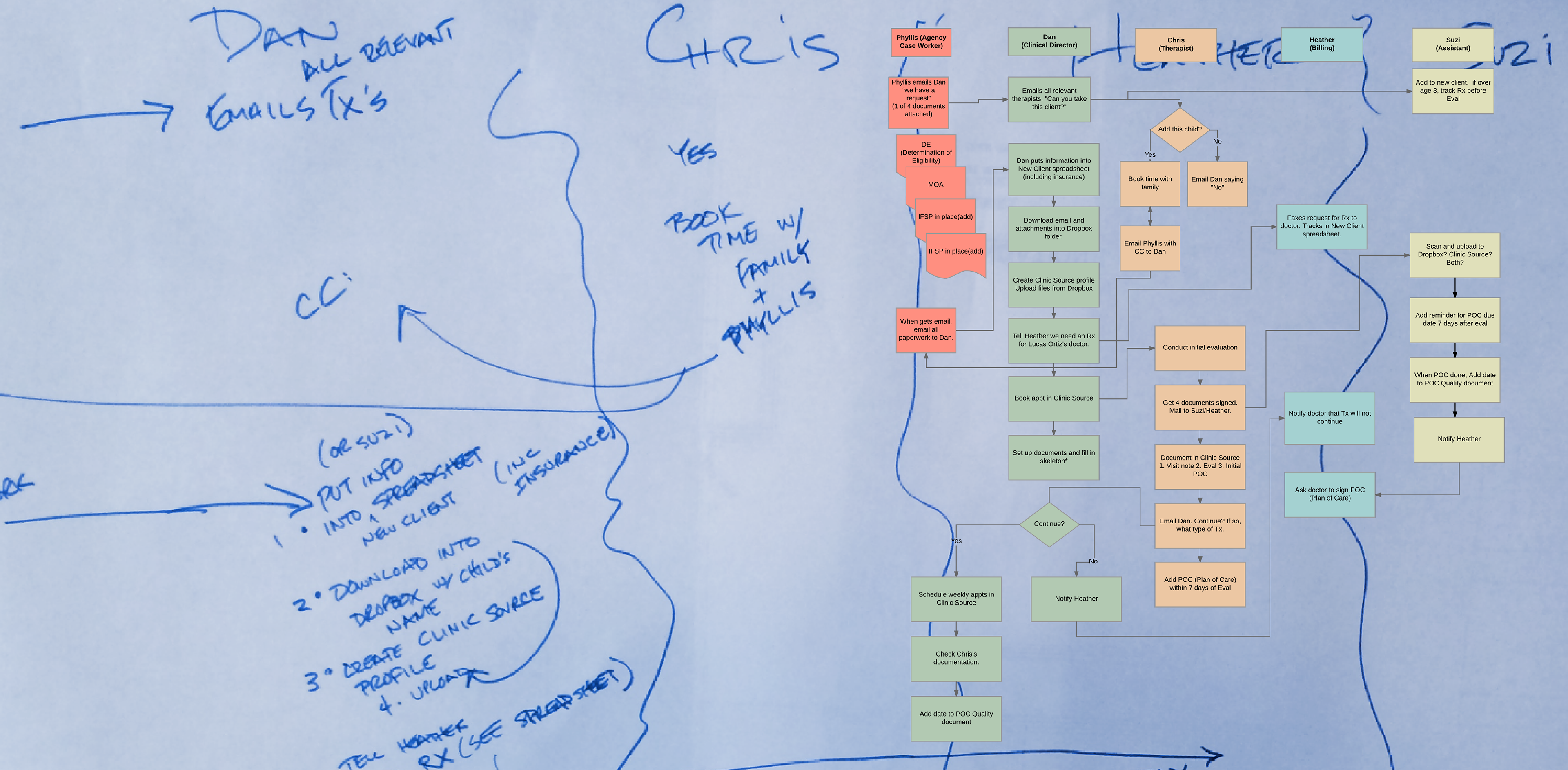 Synthesize, Analyze, Strategize  
Q:   
What is the ideal outcome when a prospective customer visits McLellan Homecare.com?  
A:   

​​​​
If we get the parent on the phone, we almost always end up seeing the child.   
We might have assumed that McLellan Homecare needed to build the kind of website every other therapist or homecare agency has. But with the goal of getting the prospective client on the phone, we were able to avoid building a lot of time-consuming content. Most parents come to McLellan Homecare based on a recommendation from an agency or physician; a strategy of being found on a Google search would be a poor return on investment.
information Architecture  
The best Information Architecture follows the audience's expectations. It isn't a time to introduce an out-of-the-box concept.
 •    
Consistency of heading typography -- especially space before and after  -- reinforces the organization of content.
 •    
Navigation based on keeping to what people have come to expect.
 •    
The resource section organization was refined based on card sorting exercises with the parents.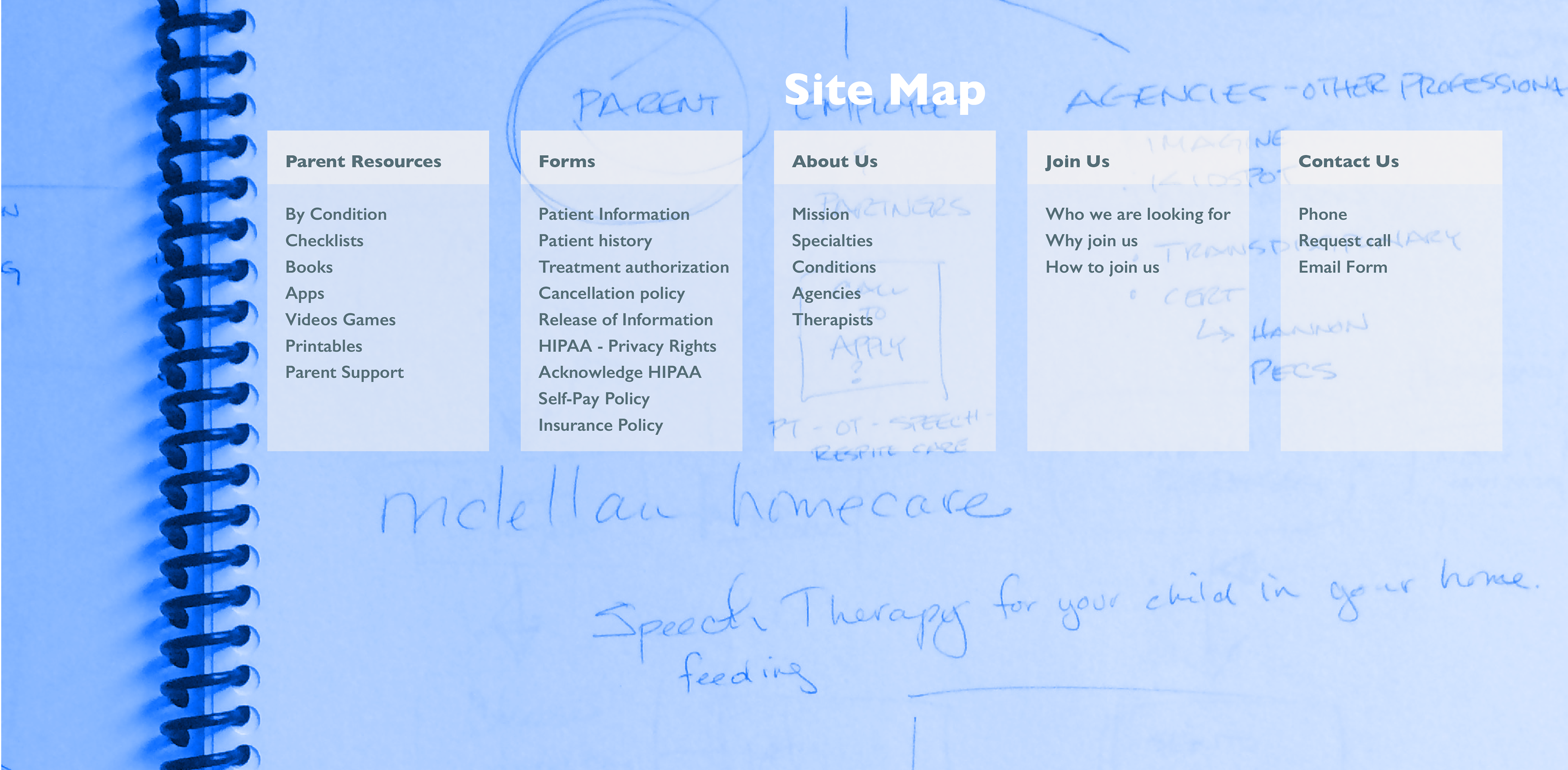 Wireframes  
I started with hand sketches which I scanned and made into a clickable prototype in Adobe Xd to gather feedback. Then I created a wireframe largely by tracing the hand sketch in Adobe Xd.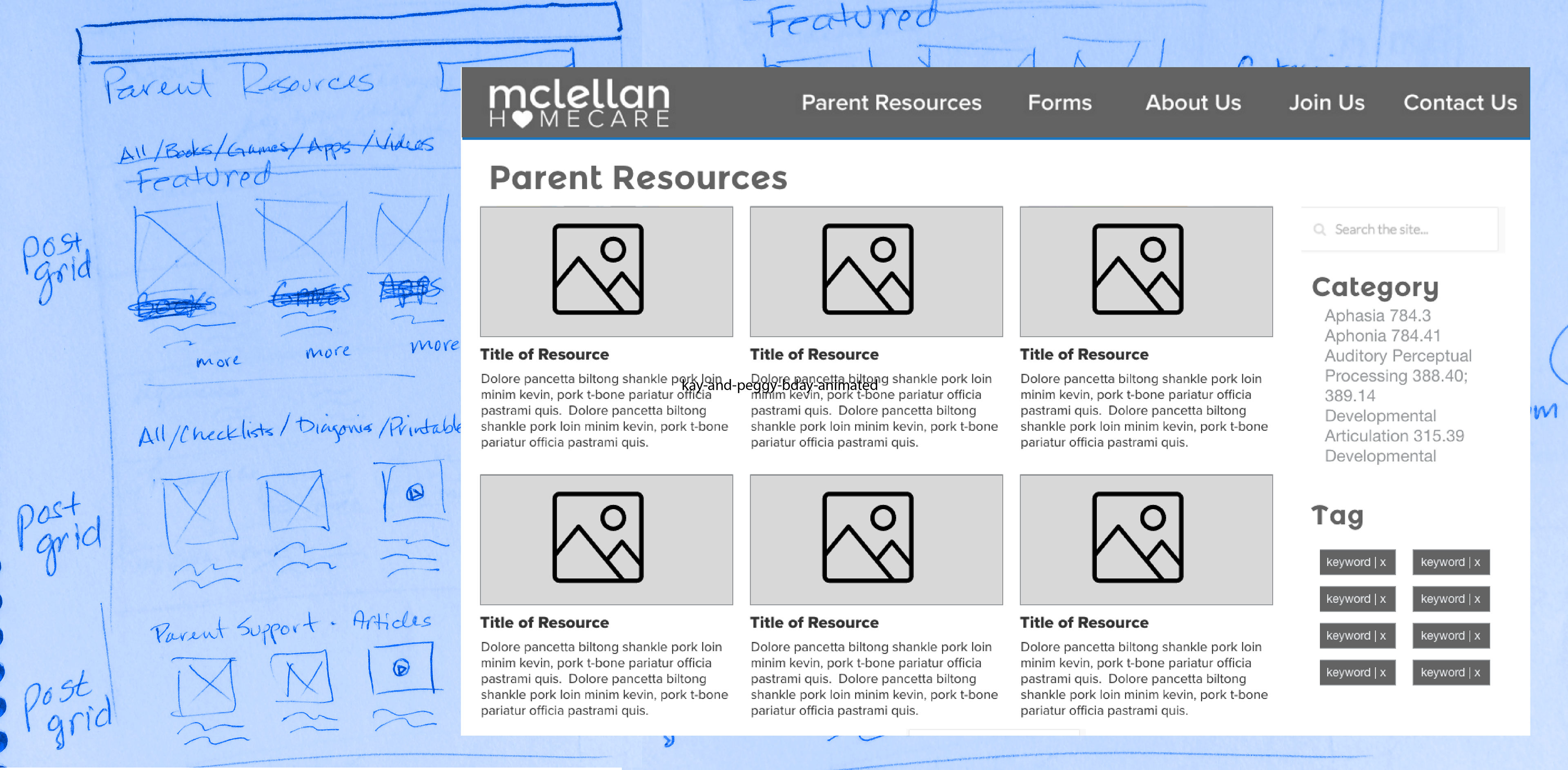 An example of the simple power of Wireframes is illustrated below. While reviewing my hand-sketched Contact form, our expert drew a big X over the input boxes and wrote HIPPA. She explained that it's expensive to comply with all the privacy regulations, and after all "don't you want them on the phone?" Yes, it was just a nice-to-have. But since the total investment was the 5 minutes that it took me to handsketch it, it was painless to remove it with a swoop of her pen.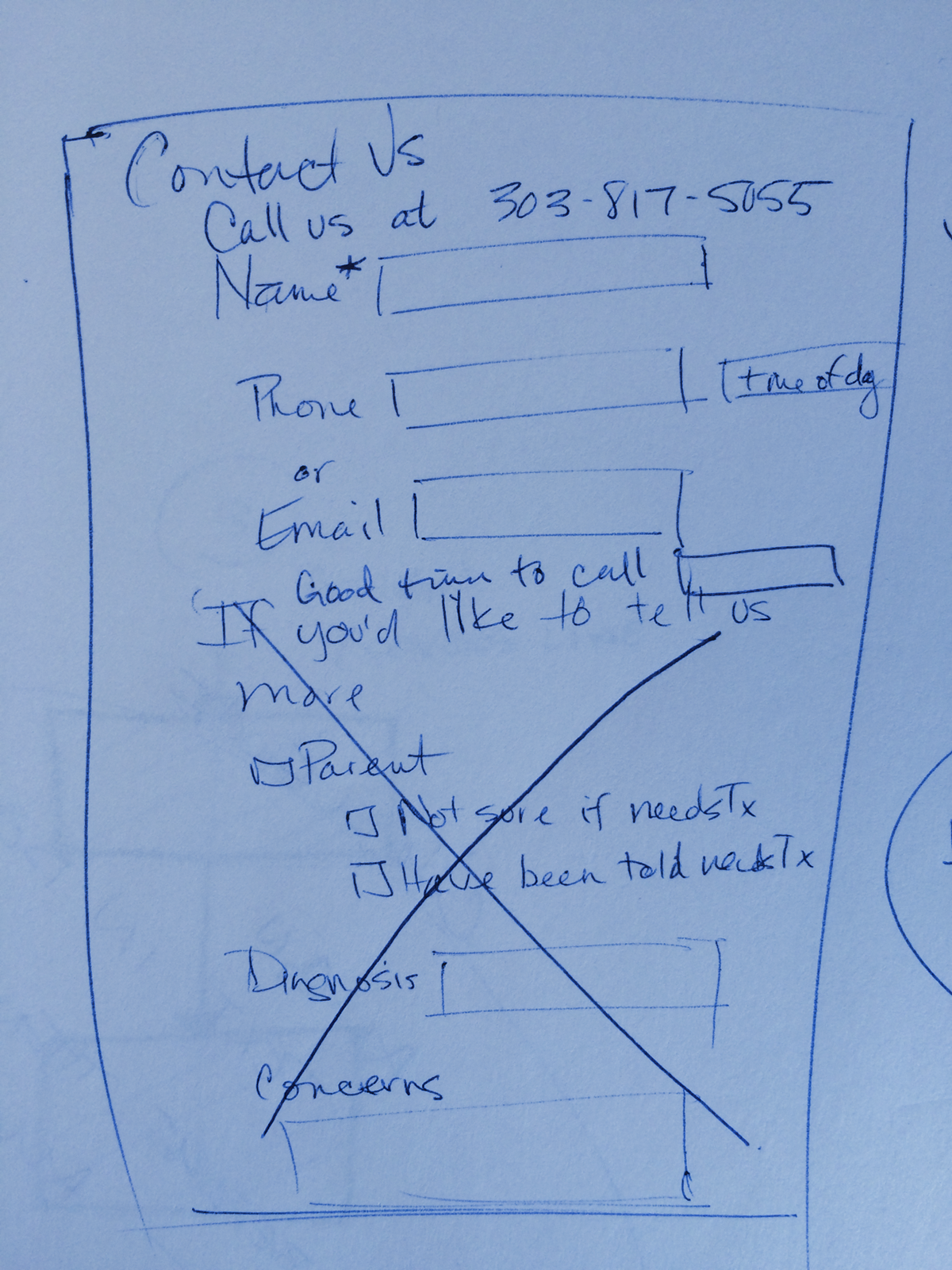 Visual Design  
Armed with a definite strategy and clear picture of the audience I was able to efficiently and effectively create the following:
 •    
Logo that reinforced the McLellan Homecare values of professional and compassionate care provided in the home; the logo was designed to also work well as favicon, as a punch out from a colored background and in black and white.
 •    
Landing page and resources that communicated "play" as the central theme of therapy.
 •    
Typography which blended the light-heartedness and medical professionalism expected of pediatric health care.
Prototypes
Using Adobe Xd and Illustrator, I created another layer on top of the wireframes. Then using the prototype features, I was quickly able to create the following:
 •    
Clickable prototype that could be shared with a link
 •    
Quicktime movie with narration showing the "Happy Path"
 •    
Export assets and screens for developers